Nicki Minaj's top 5 beef in the industry
Nicky minaj has long questioned fellow stars about "what's good."
The rapper has been making headlines recently due to a renewed feud with
Remy Ma
, with whom she has
feuded for
a decade. Almost two weeks ago, Ma released the track "Sheather," which contains the line "F--k Nicki Minaj" and accuses Nicki of everything from plastic surgery to infidelity.
Minaj responded Thursday by releasing
three diss tracks of her own
. She
also wrote on Instagram
, "#YoungMoneyTilTheDeathOfMe committing perjury #IGotB4andafterPicturesOfYourSurgery #StopSurgeryShamingB4IPostThem #Fraud diss records can't be lies. Great diss records are FACTS. But here @ Young Money, we don't do diss records, we drop HIT RECORDS & diss u ON them."
Check out more of Nicki's feuds: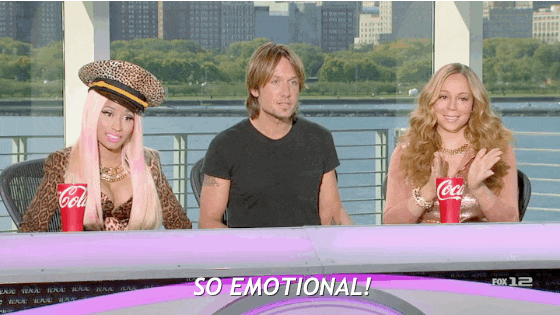 "I told them, I'm not putting up with her f--king highness over here," Minaj said, turning to face Carey as fellow judge
Keith Urban
, who sat between them, appeared to try to calm the rapper down.
Barbara Walters
later said on
The View
that Mariah told her that Nicki was overheard saying, "
If I had a gun, I would shoot that bitch
." The rapper responded to the allegation on Twitter, saying, "Lets just say nicki said smthn about a gun. ppl will believe it cuz she's a black rapper. Lmao. I'll then hit up Barbara n milk it.
Ironically no
camera or mic heard the gun comment tho. Lol @ the struggle. Not even the producers believed u. Say no to violence barbz."
Three months later, Mariah talked about the incident with Walters on Nightline.
"It
felt like an unsafe work environment
," she said. "Anytime anybody's reeling threats at somebody, you know, it's not appropriate. I'm a professional. I'm not used to that type of environment."
The singer, a mother of twins, said she hired more security after the incident, adding, "sitting there on the road with two babies, I'm not going to take any chances.
Taylor, who was nominated for her "Bad Blood" video, which featured a slew of models and actresses, took the tweet as an intentional diss.
"I've done nothing but love & support you," she tweeted at Nicki. "It's unlike you to pit women against each other. Maybe one of the men took your slot.."
The rapper then said she never said a word about her, adding, "I love u just as much. But u should speak on this."
Nicki Minaj vs. Miley Cyrus:
In 2015, Miley made unflattering remarks about Nicki in a
New York Times interview
while weighing in on the rapper's Twitter miscommunication with Taylor.
"You made it about you," she said. "Not to sound like a bitch, but that's like, 'Eh, I didn't get my VMA.' If you want to make it about race, there's a way you could do that. But don't make it just about yourself. Say: 'This is the reason why I think it's important to be nominated. There's girls everywhere with this body type.'"
"What I read sounded very Nicki Minaj, which, if you know Nicki Minaj is not too kind," she said. "It's not very polite."
At the 2015 MTV VMAs, Nicki responded to Miley's comments, calling her a "bitch" and asked her
"what's Good?"
while speaking onstage. Miley, who hosted the show,
appeared shocked
.
"The fact that you feel upset about me speaking on something that affects black women
makes me feel like you have some big balls
," Nicki told
The New York Times Magazine
weeks later. "You're in videos with black men, and you're bringing out black women on your stages, but you don't want to know how black women feel about something that's so important? Come on, you can't want the good without the bad. If you want to enjoy our culture and our lifestyle, bond with us, dance with us, have fun with us, twerk with us, rap with us, then you should also want to know what affects us, what is bothering us, what we feel is unfair to us. You shouldn't
not
want to know that."
"Am I trippin' or did this hoe just say my name / Queen of Rap, get the f--k outta here / Queen's back, get the f--k outta here / Tim to get this rap bitch up outta here," she raps.
Kim recently denied recent rumors that claimed she planned on intervening in Nicki and Remy Ma's feud, to back the latter rapper.
Nicki Minaj vs. Giuseppe Zanotti:
Nicki has worn footwear by the Italian footwear designer, has met him and quoted his name in her lyrics and says he told her she inspired his "
Nicki
"
shoe
designs
. Nicki, who does not own trademark rights over her own,
vented about him
in February, saying that his people were ignoring her team's attempts to launch an official collaboration with him.
"This is wonderful. #GiuseppeZanotti seems to think it's ok to name his sneakers after me but his PR says they won't take our call. Lol," Minaj
tweeted
.
She then used the line she used on Miley.
"RunMeMyCHECK #GiuseppeWhatsGood I got time today," Nicki said. "Barbz trend this cuz he gon learn today. The racism & disrespect won't b tolerated."
Nicki Minaj's top 5 beef in the industry
Reviewed by
Morenikeji
on
3/25/2017 11:18:00 pm
Rating: